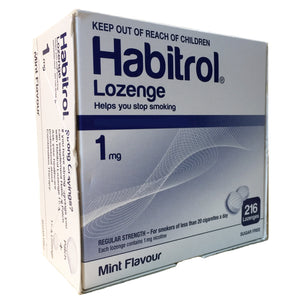 9/15/2023: This product is not currently available from our wholesaler due to a manufacturer supply shortage.  We will post new information when we have it.
Habitrol nicotine lozenges are sugar free, and take about 20 minutes to dissolve.  We really enjoy the refreshing mint flavor.  Lozenges are great for social occasions, and there  is no used gum to dispose of.  They remain stable in warm or hot environments, like an automobile or pocket.  Lozenges won't stick to dental work.

These lozenges have a 1mg dosage, recommended for people who smoked less than one pack of cigarettes daily.  If you smoked more, Habitrol lozenges are available in a 2mg dosage.
We offer very nice discounts for buying multiple boxes - take a look at the drop down list just above the price.  With our same day free shipping on all domestic orders, the price you see is the price you pay.
Each box of Habitrol lozenges include printed information about the ingredients, warnings, and recommended use of this product. For best results, you should consult with a physician when starting your smoking cessation effort.  You may not order this product if you are under 18 years of age.